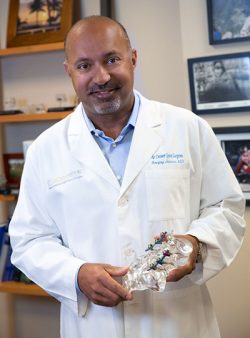 Specialty:
Orthopedic Surgery
Spine
Address:
7800 E. Orchard Rd., Suite 100
Greenwood Village, CO 80111
Sanjay Jatana is a board certified, fellowship-trained orthopedic spine surgeon, specializing in the treatment of spine problems involving the neck, mid-back and low back. He is also experienced at caring for patients requiring repeat or revision surgery. Dr. Jatana's goal is to provide patients with the information they need to make educated decisions about how to treat their back pain.
Dr. Jatana established his Denver spine surgery practice in 1997 at Denver Orthopedic Specialists and later co-founded Denver Spine Surgeons. He treats patients from across Colorado as well as Wyoming, Kansas and Nebraska. A frequent presenter at medical industry conferences and meetings, Dr. Jatana is a Diplomate of the American Board of Orthopedic Surgery and a Fellow of the American Academy of Orthopedic Surgeons.
In his patient-centered practice, Dr. Jatana focuses on accurately identifying the source of a patient's back or neck pain to determine which treatment options will yield the best outcome. He utilizes both surgical and non-surgical approaches, including less invasive and minimally invasive techniques. If surgery is indicated, Dr. Jatana prefers to follow his patients for at least two years to ensure long-term positive results.
Dr. Jatana and his team are committed to helping patients feel better and experience relief from their back pain.